Short Sleeve Coveralls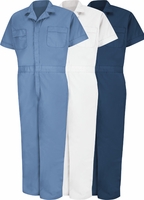 We carry light weight and short sleeve coveralls. Short sleeve coveralls in light weight poplin material. They come in several colors white, navy and medium blue. We can add reflective trim to them. Please contact us for more information.
Fabric Colors
Every effort is made to ensure that pictured fabric colors in our online store are as close as possible to the actual fabric color, this cannot be guaranteed. When exact color match is required, an actual color sample should be purchased. Pictures shown are as accurate as possible, but due to variations in viewer monitor settings (color, brightness, contrast setting), colors may vary from actual items.
Country of Origin: Imported, Unless Otherwise Noted.